Note: This is cross-posted from the blog in my Desura account to ensure my backup system catches it.
After one of my previous posts, showing off my obsession with flowcharts and how much I overthink buying new games, it occurred to me that I can actually focus on a question other people might care about: How does one comfortably manage their games collection on Linux these days?
The only options I've been able to find for getting Linux games online are as follows and only the first three have package management beyond "download this installer" (though Gameolith plans to add private package repositories):
However, when most people think of digital distribution (the buzzword), we think of a unified experience that takes the hassle out of managing our games for us. (In other words, something developers have to support or else like Steam)
Obviously, nothing as comprehensive as that exists for Linux yet, but we can try to MacGyver things up for now. I'd like to hear what your approach is in the comments, but here's the best I've been able to accomplish.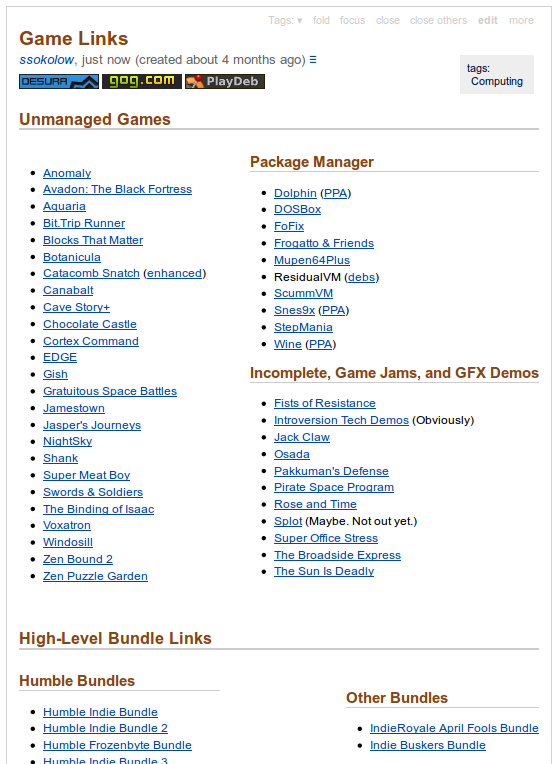 It's not ideal, but I tried and, since I'm already using TiddlyWiki to manage everything else, it's quite comfortable.
The key details are:
The Desura button is a direct link to the client download page.
The PlayDeb button and the PPA links in the "Package Manager" section are direct links to the lines I'll need to re-add to /etc/apt/sources.list if I re-install.
The GOG.com button is a direct link to the "your games" page.
The non-bracketed links in the "Package Manager" section use apt: URLs to trigger the package installer from the browser.
The rest are just links to the page where you choose your download type (deb, rpm, installer, etc.)
I'm still working on polishing up and streamlining everything, but I'm already making good progress on polishing up Desura as a general game launcher. Here's what it looks like once I've added a few native Linux games and a few Windows games via Wine and wrapper scripts: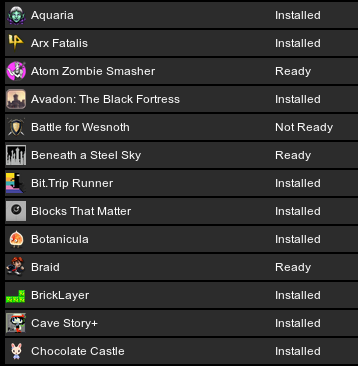 You can do this yourself, if you want, by using the set_icon.py script I wrote. It'll even extract icons from .EXE files for you.
When I have time, I'm also planning to work on:
Making set_icon.py work on Windows. (The main issue is using Windows methods to find Desura and extract icons from .EXE files rather than Linux ones)
A script which will create a wrapper for a Wine application, extract the icon, and add it to Desura with one command.
A script which will sync all the games in my Linux desktop's launcher into Desura (both additions and deletions) with one command.

The State of Digital Distribution on Linux by Stephan Sokolow is licensed under a Creative Commons Attribution-ShareAlike 4.0 International License.