For the last few years, I've been amassing a collection of little scripts I use every day to build playlists, both for Audacious and for MPlayer.
About a week ago, I realized that they'd started to duplicate each others' functionality and refactored them into a single script which has different default behaviours depending on what it's called as (but you can also use command-line flags).
So far, here are the behaviours it implements based on what you call it as (either via MPRIS [1] [2] or using a command provided via --exec such as mplayer):
aq

Add the given paths to the playlist.

ap

Like aq but start the first one playing too.

laq

Like aq but use locate -i to search for the first argument, filter for known media types and filter for the following arguments, then display a chooser.

lap

Like laq but start the first one playing too.

raq

Randomly select -n NUM songs (default: 10) from the paths provided (default: XDG_MUSIC_DIR) and add them to the playlist.

rap

Like rap but start the first one playing too.
…and all of these are just aliases to options listed in --help.
Until two days ago, the chooser was a simple little thing where you were given a numbered list of filenames and you typed in a sequence of numbers, optionally including Python-style start:stop slice syntax.
Now, if you've got urwid installed, you get a nice ncurses-style pseudo-GUI, complete with mouse interaction… though the scroll wheel support is preliminary and I'm still trying to figure out how to set up Tab-based focus switching.
Here's a screenshot: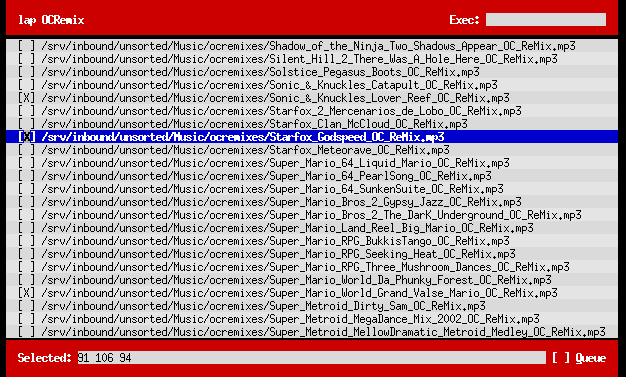 I haven't had time to fully bring the codebase up to spec, write the last few new features, and write a test suite for it, but it's good enough for my day-to-day use so, if you want to give it a try, it's on GitHub in ssokolow/profile as home/bin/lap. (It has its own GitHub repo now.)
The queue option in the chooser can be toggled via the Q key or Meta+Q and, once you've selected all the tracks you want using Spacebar or the mouse, press Enter to commit.
In case I ever move it to its own repo and forget to update the link, you can also grab the revision at the time of this posting.

A little tool for command-line playlist building by Stephan Sokolow is licensed under a Creative Commons Attribution-ShareAlike 4.0 International License.